Digital Literature Holders with LCD Screen for Advertising
---
Digital Brochure Stands Change the Way to Display Reading Material
Looking to add some flair to a boring old stand for your brochures and magazines? Invest in digital literature holders to bring your trade show booth, reception area, or storefront to the next level. Each rack combines a traditional magazine stand with an impactful and vivid LCD screen to display your advertisements. Digital literature holders are ideal for high traffic locations like trade shows, airports, and corporate buildings due to their durable yet attractive design. These racks give you the ability to showcase your reading material in a traditional way while being able to brand yourself digitally. Our literature holders have all the added features that will make your magazines and pamphlets stand out, like all their electronic attributes. Available in silver or black, you'll be sure to find the right option for your establishment.
What sets these magazine racks apart from the rest?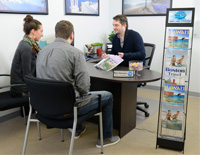 Digital literature holders have a 10.1" LCD screen with the option of showing photos and streaming video and streaming audio. The monitor has a built-in speaker and features 1040x600 resolution for high-quality imagery. The acrylic bracket that holds the panel has a locking ability thanks to security screws that are included with your purchase.
Each stand has a plug-and-play capability featuring USB and micro HDMI ports. This allows the user to stream a variety of multimedia easily and effectively.
The racks have ten tiers of slots that can fit 8.5"x11" magazines and other reading material.
Zip ties are available to hide the cable behind the screen which prevents passersby from tripping or knocking over the display.
Stands come with a remote control to manage the advertisements on the screen. Users can navigate through several built-in apps, adjust monitor settings, and automatically play slideshows, video, or music.
Using this stand on-the-go? Each rack comes with a canvas carrying bag making travel to a trade show, business expo, or open house a breeze.
These brochure stands will enhance the reading material in any room they're placed in. With an impactful LCD screen and an attractive build, passersby will enjoy browsing the magazines and pamphlets while simultaneously viewing the media from the screen. Companies now can effectively advertise in a way they couldn't with the help of these racks. Instead of people bypassing the reading material, they will be drawn to the vivid screen showing images, video, or streaming audio. Looking for other floor standing options for reading material? Plastic magazine racks and holders are an effective way to showcase your material, and the design is an attractive one that can be used in any environment.