Wall Mounted Brochure Holders - Literature Displays
---
Brochure and Catalog Holder Wall Mounts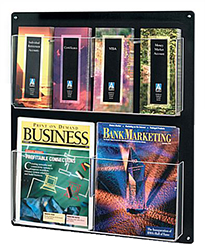 Looking to feature your promotional literature where everyone can see it? Our wall mounted brochure holders are made to get your pamphlets, catalogs and leaflets seen by the people who need them. Put your message at eye level by putting these fixtures in lobbies, waiting rooms and hallways. Each wall mounted brochure holder is made for maximum visibility, using clear acrylic pockets to showcase your handouts. In addition, these compact magazine racks come with removable dividers to accommodate all sizes of promotional media. Use wall mounted brochure holders instead of tables and shelves where papers and booklets can easily become messy and disorganized, making it harder for visitors to see. Choose from a number of organizers to find the model that meets your needs.
What styles of literature rack mounts do we offer?
Our acrylic wall mounted brochure holders are excellent for giving full visibility of your literature campaign. Models with a fully see-through finish won't block your pamphlets from being seen by passersby, maximizing your impact. We also offer sleek black models that are made from the same affordable material, but feature a neutral, glossy finish. This style is often used in corporate offices and businesses that are looking for a modern touch, but their inexpensive design is great for any company.
We offer wood brochure holders with a more classic appearance. These models are available in attractive finishes like mahogany and golden oak to match more traditional décors. However, they still offer maxmimum visibility with open shelving or clear acrylic pockets. This line of catalog racks is made of real wood for a strong frame and an authentic natural look. The more inviting appearance goes well with doctor's waiting rooms, banks and other businesses where making patrons comfortable is a top priority.
Metal brochure holders have their own interesting motif. These are made of strong aluminum and feature lustrous modern finishes to match companies going for a contemporary look. Some of our sleek metal literature racks have an extruded design that sticks out to grab attention more easily, while others lay flat to save room. In addition, our curved "wavy" pamphlet organizers don't just look good, they get visitors interested in the promotional materials they hold. Retail stores and service organizations often use these as a leaflet storage solution.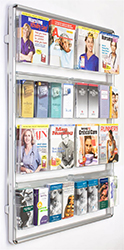 How are these pamphlet holders best used? Promotional leaflet displays are excellent for giving customers and patrons more information before they make a final decision. Doctor's offices often place these in their waiting rooms to give patients more information on medicine, medical devices and new procedures. Banks and financial institutions will similarly outline their services, helping customers get a good idea about plans available to them. Why not organize all of this information to make it as easy as possible to access?
Brochure racks are also excellent for placement in reception areas and building lobbies where companies can introduce their services. Visitors to your company can read a leaflet while they wait for a meeting or take one come to stay in contact. Advertise new services and the year ahead with this highly visible media. Need to get these fixtures as fast and as affordable as possible? Order from BrochureHoldersNow.com for quick shipping and wholesale pricing on our entire catalog.