Wall Mount Brochure Holders with Adjustable Pockets
---
Wall Displays for Brochures Offer Multiple Pocket Options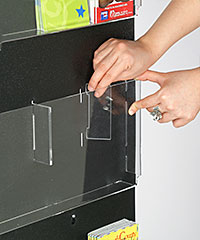 Wall mount brochure holders, including literature racks, perform the task of displaying multiple types of promotional literature. This type of content can be product information, take away pamphlets, or catalogs. The wall mount brochure holders come in a dizzying array of models with one thing in common: organize and distribute! Just think about all the locations these plastic flyer holders are implemented, such as in waiting rooms, travel bureaus, and financial institutions. Their acrylic plastic construction provides a clear view of all your periodicals. These wall mount brochure holders feature simple installs that can be performed by just about anyone.
What are the most popular literature racks in this category?
Easily, the wall mount brochure holders in our RP product line, located at the top of the category listings. They are offered in clear acrylic and black plastic.
They are constructed with a solid back plate that gets mounted to the wall. Then the plastic pockets simply hook into the backer through the slots.
Optional pocket dividers allow for customization, letting you display either folded brochures or full-size catalogs and magazines.
Our wooden magazine racks feature solid wood construction and are available in three stained finishes: light oak, medium oak, and mahogany. Full-size pockets can be split into two with the handy dividers. Some literature racks come with clear acrylic face stops to not only hold the contents upright, but also to allow full view of the covers. Lesser expensive plastic flyer holders come with open pockets only. Sometimes, single pockets are desirable which allow for a more customized application. Need a long line of pockets that stretch a number of feet? All you have to do is purchase single pockets in bulk, then mount in a row for the desired effect. A number of our wall-mounted displays can also be used as countertop models. These holders have flat bottom pockets for placement on flat surfaces. Pre-drilled holes in the rear backer allow for hanging on wall fasteners.
Holders for exterior applications round out the product lines. Obviously, preventing the elements from wrecking your paper inserts is tantamount, and these products solve the problem with an oversize lid. It's a simple solution, one that's used by realtors, business owners, and restauranteurs to offer passersby home listings, literature, and menus in the great outdoors. Holders with suction cups attach to glass windows, whether on a storefront or car. Take your marketing with you on-the-go! All in all, these displays for brochures offer necessary organization for any business; buy online today and receive same day shipment.