Cardboard Magazine Holders | Cheap, Corrugated Retail Boxes
---
Cardboard Magazine Holders - Plain, Portable, Corrugated Retail Box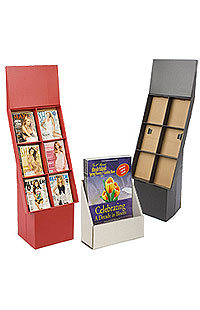 Are you in the market for cardboard magazine displays? If so, we have the perfect units available for purchase at wholesale prices! Choose from a variety of corrugated catalog stands that are made to sit atop any flat surface! The plain design is perfect for matching, reusing and ease of set-up and detailing. Cardboard magazine holders, also known as corrugated catalog stands, are the perfect addition to a vast variety of locations and can be used for several different purposes. Choose from different color retail boxes or a white box to customize with logos or graphics. Organize and de-clutter your workspace, lobby or waiting room with the use of one of these containers. The cardboard magazine displays are designed to be reusable to get the most bang for your buck. They are also recyclable and environmentally friendly! Simply place the box on any counter, desk, table or shelf and place papers, newspapers, brochures or magazines in it.
What can these corrugated catalog stands hold?
These cardboard magazine holders can hold monthly publications that are being sold or displayed for customer use purposes.
The retail box can be used to solicit flyers to customers or patrons that they can take with them as they leave.
The corrugated containers are great for banks, hotels, schools, libraries and anywhere else that may have printed materials to hand or printed schedules of activities.
Choose from multi-cell or single pocket units for all your showcase needs!
The low-cost of these stands are a huge selling point as they can be bought in bulk, reused and recycled with little hassle and without putting a strain on budget. Think of using them at school fairs, stores and in airports and train stations. Because things often get damaged in high-traffic areas, these are easy to dispose of and changed without fear of wasting thousands of dollars. The plain design ensures that these boxes can be matched to any décor or setting. Larger companies are invited to purchase these containers in bulk at our low wholesale prices! Ordering more means saving more. Choose wisely when working with your display budget and choose an option that is not only affordable but eco-friendly and easily movable. The box material is purposely designed to be lightweight and portable. Trade show booths and expo centers can be lined with these to promote sales, offer contact information or provide flyers and booklets detailing services. Choose the economical and wallet-friendly option in these cardboard magazine sleeves!