Wooden Magazine Stands | Freestanding, Hardwood Publication Displays
---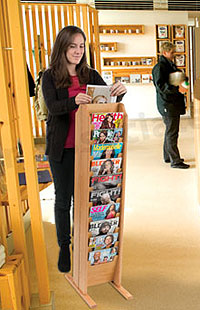 Wooden Magazine Stands - Traditional Wood Freestanding Units for Office Use
Are you in the market for wooden magazine stands for your home or office? Look no further than these freestanding units! The catalog floor displays are specially crafted for durability and style. Each wooden magazine stand, also called catalog floor displays, can be placed on the floor of any room to create a vertical storage solution. No matter what your business or retail locations sells, we know that floor space is valuable real estate. Don't waste your advertising and display space by cluttering it with magazines, newspapers or brochures! Choose one of the cascading literature holders to perfectly and neatly showcase a wide array of publications. Wooden magazine stands are easy to move, assemble and use. Simply place monthly subscriptions, pamphlets and other printed materials in the pockets or holders. In addition to the simple to use design, the publication displays are crafted from hardwood. Choose from various finishes and stains that perfectly match your décor or theme. Never waste countertop, table or shelf space again with books or cluttered magazines!
Where can these catalog floor displays be used?
These wooden magazine stands are perfect for waiting rooms and lobbies. Allow your waiting guests the option to browse reading material to make their stay more enjoyable.
Use these freestanding units in libraries, classrooms and bookstores to create eye-catching and organized displays.
Stores that sell monthly subscriptions like gift stores, gas stations and grocery stores can simply line the aisles with these hardwood holders.
Visitor centers and rest areas can use the traditional stands to promote certain areas or events while providing take-away material in the pockets located on the base.
These cascading holders are perfect for such a large variety of environments that they can be used virtually anywhere! The different stains range from light oak to red mahogany and are sure to complement and enhance any setting they are placed in. The units with attached pockets make it easy to place printed material for your customers to take with them. The freestanding units are designed to be durable even in the most high-traffic settings. The bases will stand upright on any flat floor are made from heavy wood to further weigh them down. Don't waste space in your home, office business or lobby by cluttering open surfaces with magazines and other printed items. Organize and present them in an orderly and easy to browse fashion with these modern catalog floor displays. Each wooden literature stand comes with a large number of pockets to ensure that your showcase needs are met and surpassed! Shop today at wholesale prices and order for your business from our fast-ship warehouse.