Wooden Magazine Racks for Storing and Organizing Periodicals
---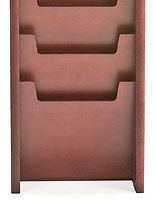 Wooden Magazine Racks | Professional Stands for Organizing Publications
Are you in the market for wooden magazine racks for store or office organizers? If so, look no further than the dozens of styles and finishes we have available! We offer a huge selection of periodical floor organizers that match any décor and setting. Each wooden magazine rack, also known as a periodical floor organizer, is perfect for keeping rooms clutter-free and allows for easy browsing in store locations. Because we know that having traditional hardwood is the top of line, we offer various finishes for your office or business. Choose from different shades of wood, different pocket styles and towers with more than one column for storage. Each wall mounted rack simply hangs from any wall and is up off the floor for use. Don't waste floor space on large shelves or coffee tables!
With our huge selection of wooden magazine holders, you are able to choose from towers that have several different styles and numbers of pockets. Versatility and stability are important to any piece of furniture that goes into a business or office which we is why we offer products crafted out of fine hardwood and that come with wall mounting brackets to ensure safety and security.
What finishes are available for these periodical floor organizers?
We offer wooden magazine holders in mahogany and oak.
Choose from light oak, medium oak, red mahogany and dark mahogany.
Further custom for your needs by ordering units with the correct amount of pockets for your locations.
Whether you need traditional one-pocket organizers or more elaborate 12-pocket units, we have every style to fit your needs. Use in your office lobby to clear clutter from coffee tables and counters or use in your retail location to sell monthly publications or newspapers. In addition, these hardwood display stands are perfect for hospitals, nursing homes, doctors and dentists offices and other health care offices to hold charts and folders. The simple but elegant design makes these tradition wooden magazine storage units perfect for any setting. The larger 36-pocket shelving units are great for schools and libraries where papers need to be organized constantly. There is no limit to the amount of space and time these magazine racks can provide. Choose the style, color and finish that best fits your décor and never worry about important documents or magazines being torn, damaged or ripped again. The wooden construction is designed to be durable even in the most high traffic of areas!