Acrylic Magazine Stands | Pocketed Floor Holders & Racks
---
Acrylic Magazine Stands | Affordable Floor Holders with Pockets for Organizing and Displaying Literature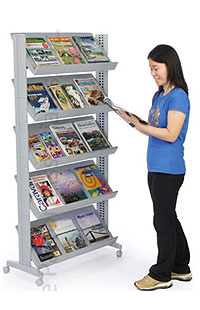 Why are acrylic magazine stands the perfect space saving solution for your business or office? The organizers are designed specifically to keep clutter off of tables and counters! Each plastic catalog rack stands on the floor with ease. The acrylic magazine stands, also known as plastic catalog racks, are to be sturdy and durable even in the most high traffic areas. Choose from different styles, multi-pocket or single pocket units, clear or colored designs and bulletin boards as well. No display need will be left unmet with these acrylic magazine displays. The pocketed units create space for you to place all your print publications and monthly subscriptions. Whether you want to use the floor displays in your office, your waiting room or your retail establishment, they are sure to bring order and ease of browsing to even the largest magazine collection.
We offer holders with various designs and finishes to match any décor or setting. Choose from clear, plastic models or more intricate metal stands. Whether you need to display brochures or large flyers, we have the organizer that is perfect for you!
What locations are these plastic catalog racks suitable for?
These acrylic magazine stands are perfect for shops and stores that sell magazines to frequent customers. Gas stations, gift shops, rest areas and convenience stores are the perfect location for these holders.
Waiting rooms in hospitals, doctors and dentists offices, auto shops and cafes or restaurants need not be cluttered by printed material with the use of the floor racks.
The bulletin board style and brochure style containers are great for visitor's centers or community centers where new visitors may want to take a map or list of local restaurants, hotels and parks.
Restaurants and other eateries can provide take out menus or the editions of magazines and newspaper in which reviews appear.
These displays hold standard sized, 8.5" x 11" magazines or 4" x 9" leaflets. The available dividers make it easy to custom an organizer to fit all your needs. Choose from units with pockets or shelves depending on your space requirements. Because we know that floor space is valuable in any retail location or business, our stands are designed to take up the least amount of space possible while providing the ultimate organization. Choose from the large variety of magazine stands today and order for your business or office now!