Acrylic Magazine Racks | Plastic Mounts for Counter and Tabletop Use
---
Acrylic Magazine Racks | Plastic Retail Mounts with Clear or Colored Design for Store Use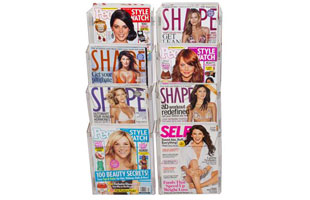 Why are acrylic magazine racks great for any business or office location? The plastic stands are available in a range of styles, colors and design. The periodical sales displays are ideal for doctor's offices, dentist's offices, waiting rooms, stores, gift shops, tradeshows and more! The acrylic magazine racks, also known as periodical sales displays, are designed to fit the need of every customer and business owner! The wall mounted units are made specifically to be out of the way of traffic areas while also providing ultimate organization and neat presentation of publications and books! The acrylic magazine holders are the ultimate retail and store storage compartments for all your literature needs.
We carry several styles of periodical sales displays for all your hanging storage needs. Choose from outdoor models for flyers and brochures, countertop units and modern styles with curved arms. We also carry bulletin boards and corkboards for community and visitors centers! No matter what your literature display needs, we have an organizer or storage unit for indoor use or outdoor use that will keep your items wrinkle, tear and damage free!
Where can these periodical sales displays be used?
These acrylic magazine holders can be used in any retail location to sell monthly publications or display them for customers to read or browse while they wait.
The bulletin boards and corkboards are ideal for visitor centers, schools, offices and community centers.
The weatherproof, plastic outdoor boxes are great for open houses, travel locations and outside of stores and restaurant to give patrons take-home menus or sales coupons.
Any area with a waiting room like doctors, dentists, car dealerships and banks can provide their patients and customers with reading material with the use of these periodical display stands.
These acrylic magazine hangers are the perfect for such a large variety of locations. Choose durable and space-saving storage by using the wall mounted units in your office, home or place of business. The plastic design is constructed to be ultra-sturdy and durable and can even be used outdoors. The vast selection of corkboards, bulletin boards, multi-pocket and closed versions ensure that your can find a stand that will meet all your display needs! Protect your literature in one of these magazine racks! Also, take advantage of our wholesale prices and bulk options.