Acrylic Brochure Stands | Freestanding Literature Displays for Flyers & Pamphlets
---
Acrylic Brochure Stand - Standalone Pamphlet Rack in Silver, Clear & Black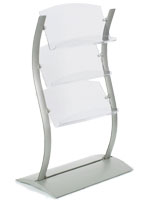 How do professional acrylic brochure stands help promote a product, service or event? The freestanding pamphlet holders increase public awareness of a brand by keeping all of the information readily accessible. People will be able to easily see the flyers, booklets and other trifold printed materials when stacked in the pockets. The standalone information kiosks allow potential clients to quickly pick up the advertisement as they walk past the fixtures. These acrylic brochure stands, frequently referred to as plastic leaflet displays, are designed to organize the industry standard 4" x 9" trifold. Clientele are much more likely to read information that is neatly arranged. Freestanding pamphlet holders increase the likelihood of customers learning about all the merchandise and services for sale. These clear acrylic brochure stands are standalone information kiosks that can be used on any floor space within the establishment. Setup the freestanding pamphlet holders in the entranceway, lobby or any other area that receives a great deal of foot traffic. Retail stores, visitor centers, hotels and doctors' offices are just a few places that use these flyer racks to dole out pertinent information. Affordable stands can provide users with a few different marketing options. Many of the plastic leaflet displays include larger slots and sign frames in addition to standard trifold pockets. These stands are versatile marketing tools that help spread the word about the company.
How sturdy are the clear plastic leaflet displays?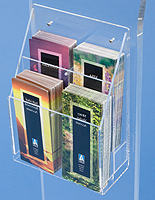 These acrylic brochure stands have durable designs that will last for a long time. The polymer material is well noted for its ability to resist breakage. Freestanding pamphlet holders constructed from this plastic have some flexibility to withstand the normal wear and tear associated with people quickly pulling printed materials from the pockets.
Plastic leaflet displays include sturdy bases that stabilize the advertising tools in heavily trafficked areas. The ruggedly designed plastic or metal bottom will stand up against the incidental kicking and stepping-on that occurs when using standalone information kiosks. Advertisers can feel free to setup the flyer stands near cash wraps or aisles without worrying about the printed materials falling to the ground.
As mentioned earlier, some of the clear and black freestanding pamphlet holders include a sign frame. Information kiosks for sliding in graphics protect the posters with a durable faceplate. The clear sign frame material is thick enough to prevent poster damage due to slightly more detrimental elements than dust or dirt.
These acrylic brochure racks are available in many different sizes and styles to best present all of the promotional materials. Advertisers will find fixtures that have numerous pockets or a single box. Some of the racks include adjustable dividers. Simply remove the division to present booklets, catalogs and flyers larger than the 4" x 9" trifold. Capture the attention of customers from a distance by using acrylic brochure fixtures that include a sign frame. Promoters may use graphics ranging in size from 8.5" x 11" all the way up to 22" x 28" posters. A few of the racks even have wheels at the base for conveniently moving the printed materials from one location in the establishment to another area. Merchandisers can choose models with a clear, silver or black frame to coordinate with current décor. The sleek displays combine amazing features with durability to create a memorable flyer showcase.