Cardboard Brochure Holders | Cheap Literature Displays
Sorry, nothing is currently available here. More may be back in stock soon! For more details or help finding alternatives please contact us via phone or live chat during operating hours.
---
Cardboard Brochure Holder - Folding Countertop Pamphlet Racks Ship Flat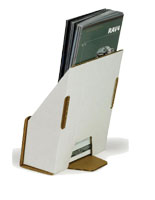 Why do so many companies purchase folding cardboard brochure holders? The countertop literature displays are made of an economical material for low price points. Cheap corrugated leaflet boxes ship flat for short lead times. Countertop pamphlet racks have lightweight designs to make repositioning the fixture simple. These wholesale cardboard brochure holders are folding racks perfect for the traveling promoters. Many mobile presenters, such as trade show and convention goers, use the literature displays because of the knockdown designs. These cardboard brochure holders that ship flat, commonly referred to as corrugated leaflet boxes, come in four different colors to offer advertisers an option that will blend in with the surroundings. Countertop pamphlet racks accommodate the standard 4.5" x 9" trifold publication. Wholesale holders require minimal setup time, so users can proudly showcase the flyers in a matter of moments. Corrugated leaflet boxes can be used by any business promoting goods, services or information. These holders are commonly found in retail shops, restaurants, museums, libraries, and medical practices. Literature displays organize the trifold materials in a tidy fashion that is much more attractive than spreading pamphlets across a countertop.
These cardboard brochure holders are sold at affordable prices to fit into almost any advertising budget. The cheap corrugated leaflet boxes have such low price points that the folding models can be purchased in bulk quantities without affecting cash flows. Businesses can create elaborate print marketing campaigns by setting up the counter literature displays throughout the establishment. Chain stores that have many locations can buy the dispensers for all the franchises. Batch orders allow companies to standardize the literature displays across the numerous satellite establishments. Choose from white, blue, red and black options to complement the décor without spending much money. Place the cheap pamphlet racks on tabletops, cash wraps or any other flat surface for great results. The countertop literature displays are small investment that can potentially increase profits.
The cardboard brochure organizers ship flat, but are very easy to assemble. Advertisers simply need to fold the corrugated material into the appropriate position. There are tabs built into the pamphlet racks that can quickly be inserted into the corresponding openings. While not as durable as metal or acrylic options, the organizers will maintain their shape as customers quickly take one of the trifold prints. Cardboard brochure organizers featured an angled back design to prevent the pamphlets from flopping over when on display. The entire assembly process takes a few moments, so users can focus on other aspects of their presentation.