Metal Brochure Holders in Wall, Floor & Counter Styles
---
Metal Brochure Holder - Pamphlet Displays & Take-One Trays for Printed Promotional Information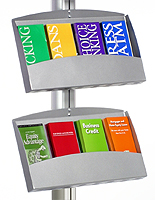 Trying to find metal brochure holders that will fit the layout of the store or other establishment? The large collection of aluminum take-one displays includes products for the countertop, wall and floor to fill the void in almost any location in the shop. Advertisers can install the pamphlet trays in the area that gets the most customer attention to ensure the literature is seen. Place the take-one displays at the entranceway, near the check-out counter or any other position to potentially improve sales. All of the promotional information products are designed to accommodate industry standard 4" x 9" leaflets. Leaflet products include models that will multiple stacks of printed material or a single pile of pamphlets. These commercial metal brochure holders for visitor centers, frequently referred to as aluminum flyer stands, have durable constructions to withstand the normal wear and tear associated with public advertising displays of this ilk. The material is strong, but also attractive. Flyer stands have sleek designs with attractive finishes that will offer a modern aesthetic. These take-one metal literature holders are promotional information organizers that come in a style and size that will blend in with the surroundings. Straight posts and wave constructions are just a couple of the visitor center accessories in stock. Browse through all of the flyer stands and wall mounting trays to explore the various features and options. Professional holders help spread the word about goods, services, events and other information by keeping the printed materials accessible to clients.
What types of businesses use the wall mounting, countertop & floor flyer stands in their advertising campaigns?
These metal brochure holders can be used by any company to advertise their name, brand or merchandise. Many businesses that sell physical goods, such as retail stores, have pamphlets to better inform clients about the latest products or rebate information. Jewelers, wineries and antique shops include literature holders to give detailed accounts of the merchandise. Any company selling physical goods can benefit from these promotional information products.
Holders are also appropriate for companies that sell services. Many financial institutions share interest rates, credit card promotions and loan information with leaflet holders. The food service industry, including restaurants and catering companies, often feature take-one displays as part of the marketing campaign to promote their services. Let potential customers know about everything the business has to offer.
Lots of industries use the racks to dole out important information to people. Medical practices keep informational pamphlets on hand for educating patients. Managers keep maps and directions in promotional information products at a hotel or visitors center.
Many of the versatile metal brochure dispensers have adjustable designs for presenting the literature in the best possible fashion. Some visitor center fixtures include removable dividers to show off both traditional and large pamphlets. Metal brochure pockets have open designs, so customers can easily see and grab the literature. In some instances, trays are height adjustable or removable. Advertisers may customize the presentation to better appeal to clientele.
Businesses often purchase dispensers that include a sign holder. There are numerous promotional information displays in stock with poster frames. These stands and wall mount pockets not only accommodate pamphlets, but also keep graphics in full view. Trays with bright signs draw more attention and lure potential consumers to the printed information. Read the descriptions of the products to find exactly what size posters the frame supports. Sign displays included with the visitor center accessories generally range from 8.5" x 11" all the way up to 18" x 77". Peruse the entire collection to learn about all the specific features. Create a memorable promotional campaign with the take-one dispensers today!