Metal Newspaper Racks | Sleek 1 & 2-Sided Displays for News Headlines
---
Metal Newspaper Racks - Floor Standing, Countertop & Wall Mount Displays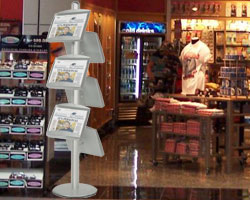 Do you want to use metal newspaper racks as upscale and modern ways to get your store noticed? The metallic periodical stands for news is a great way to draw people into your shop. The metal newspaper racks with contemporary design are hard not to notice as a display rack at the front of your store. These holders for literature are able to be placed in retail locations, airports, and hotels as a way to entice customers into buying a daily news item. The metal newspaper racks, like metallic periodical stands, come in many designs, such as single-sided, double-sided, with sign frames, or as a curved unit. The commercial metallic periodical stands are sophisticated looking to fit into many stylish environments, but will also work well in more casual placements, like airports. Publication displays, like these, perform their function well in any retail location and look great while doing it.
What types of metallic periodical stands are available for business use?
The metal newspaper racks come in a wide variety of placement styles, the biggest being floor standing with a few countertop and wall mount varieties.
There are single and double-sided displays that may come in silver or black colors and may be offered in different heights, like 75.5" tall versus 94" tall, for different room sizes.
The number of trays may vary from 1 up to 8 and the design itself could be something more traditional as far as being a truly vertical unit or it may be something more modern, like the wave stands that are shown.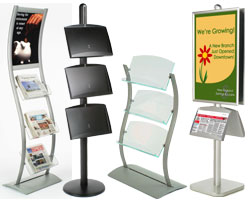 These metal newspaper holders are sure to get your business noticed either by using interesting graphics or by the sleek and sophisticated look of the silver or black color. These racks are made to pair style and function in such a way that they are able to work in any casual or upscale location. The retail display racks are able to showcase magazines and brochures along with the news headlines of the daily paper.
There are various floor standing newspaper racks available and these are the widest selection we offer. Those displays that are available with sign frames have poster sizes that range from 8.5" x 11" all the way up to 24" x 77" and when paired with several magazine, brochure, or tabloid samples they will stop passersby in their tracks. They may have a wave-like or vertical shape and may also have fully aluminum, wire, or acrylic trays. The design of the base also changes from circular, to rectangular, to square, and beyond. There are many decisions to make when considering the best metal newspaper holder for your shop.
The countertop and wall mount choices are a bit less dynamic. The tabletop varieties features trays that can be made to fit 2 magazines side-by-side or 4 brochures. These newspaper racks can also work on the floor. The wall units are only made to attach to vertical surfaces and have several options mixing and matching poster frames with literature trays. The open shelving tray design, used here as well as with the same style of floor stand, is very versatile to hold brochures, magazines, and newsprint.
The newspaper racks can be found in many locations. Hotel lobbies and breakfast areas are a typical place that these displays can be seen. Trade show booths and convention centers are another setting that these stands can be placed. The racks are also spied in airports or malls at shops that sells magazines and other literature for people who are in need of reading material on the plane or while waiting for family to finish shopping. College campuses can use the display racks to distribute the campus news in various lecture halls, dormitories, or the student union. These stands are also useful in upscale bookstores, newsstands, or card shops that provide literature of all sorts for purchase.
These display racks are all so versatile and stylish that it may be hard to choose just one to use in your space. Many of the fixtures coordinate with one another even between floor stands and wall mounts to offer a cohesive look no matter which you choose. BrochureHoldersNow has everything that your business needs in terms of ways to display and distribute the news!