Wire Newspaper Racks | Metal Newsprint Displays for Store & Lobby Use
---
Wire Newspaper Racks - Simple Designs with Sign Holders or Slots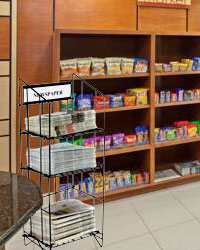 Need wire newspaper racks in your corner market to better offer the day's headlines? The metal publication stands are ideal for setup in many different locations from hotels, convenience stores, to schools and college campuses. The simple and effective periodical displays are easy to place next to a check out and fill with the morning or evening edition. The wire newspaper racks, such as publication stands, have multiple tiers that will easily place many news items for sale. The sign holder will allow customers to know if the newsprint is free or how much they need to pay. The portable publication stands are easy to carry in and out of your store if needed or even around the establishment to find the perfect placement. The wire newspaper racks for periodicals may be lightweight, but their steel frames allow them to be extremely durable even when displayed in retail locations.
In what types of settings are these publication stands typically seen?
The wire newspaper racks are usually found in areas where function is important and not elegance of design.
Places that sell the daily paper are obvious settings, like grocery stores, corner markets, and newsprint stands, and the attached sign holder is a handy merchandising tool.
The displays really make sense for any business that has its own periodical, whether that is the news, a magazine, or catalog. Schools and college campuses may place copies of their own newsprint in the fixture for distribution.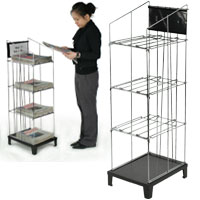 These newspaper racks are a prominent way to display the day's headlines in order to entice customers to purchase a copy. The whole point of the fixtures is that they make is easy to view and grab the daily paper. Because the commercial metal holders have multiple shelves, they allow many copies of one periodical to be put on display or several different newsprints to be available. The design of the structure is gridded metal and so can allow everything to be seen for more views of headlines. The can wire newspaper holders be placed and then not worried about because the daily paper on them will practically sell itself. Some displays will even allow for the placement of other items along with the newsprint because of the open tiers that are part of this design. Wherever they are used, the store fixtures will make sure to get the daily headlines noticed customers.
The newspaper racks are first and foremost made of metal, particularly steel and designed with a gridded system to make them not only light and easily moved, but also not cutoff any potential customer views. Whether the wire newspaper holders are 2, 3, or more tiers they are also strong and will last for a long period of time even when used repeatedly in a retail store setting. The majority of the metal displays have a black color, but there are a few in silver or white for a more unique look. The more traditional looking holders are wide enough to only fit one periodical per shelf. The other fixtures have open tiers and so are able to fit more than news headline side by side. All of these designs have a sign slot that runs the entire length of the fixture to be easily noticed at a distance. The stands are affordable and are well worth the money when they bring repeat business into your store and cause new customers to come in.
These fixtures are able to fit into any setting because of their neutral coloring and styling. The stands are simple, but they can play an important part in your business, especially when they serve a purpose every day! Many people still choose to get their news through the paper. Help them choose your establishment as their supplier of the evening edition.