Wooden Newspaper Racks | Desktop & Freestanding Literature Displays
Sorry, nothing is currently available here. More may be back in stock soon! For more details or help finding alternatives please contact us via phone or live chat during operating hours.
---
Wooden Newspaper Racks - Modern Displays for Restaurant or Retail Use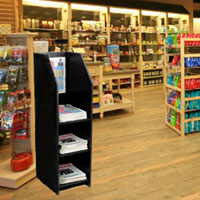 Do you want to use a wooden newspaper rack to display literature in your store or restaurant? These periodical holders that are made of wood are ideal for doing just that! The modern wooden newspaper racks are offered in countertop and floor stand options, all of which will hold many copies of the day's paper. The display fixtures are necessary furniture for any waiting room or office, but are also placed in restaurants or diners. The wooden newspaper racks, called periodical holders, feature either a sign holder to showcase that day's news or acrylic dividers to keep one large pocket divided into two. The publication stands are perfect whether they will be used to organize literature or supply news to be purchased by patrons. The stylish and professional periodical holders look great no matter if they are in an upscale eatery or a fast food joint. You won't be disappointed by the sturdy wood construction of this display furniture.
Where are these periodical holders typically seen placed in businesses?
The wooden newspaper racks are put in slightly different places depending on their use.
If the plan is for these newspaper racks to be used as organizers, then they may be placed off to the side a bit, but certainly near seating areas in restaurants or waiting rooms, where they are sure to be used.
If the display fixtures are going to showcase magazines for sale, then they are surely to be placed near or on checkout counters or close to entrances or exits. These stands are going to get noticed by paying customers when placed in such a manner.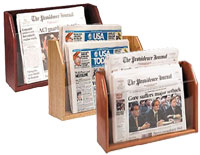 Why are newspaper racks used in the first place? Well, the magazine holders really serve two purposes and these really go along with the above bullets. They are used primarily as either organizers or as display fixtures to house retail print media. In restaurant or waiting rooms it is necessary to have some kind of central fixture that is able to keep publications neat and centralized to a certain area. No one wants to sit in a disorganized waiting room. In fact, it may even tend to put people more on edge if the room isn't tidy and that isn't good for anyone, doctor or patient. Those models that are used for convincing customers to buy the local circular are still designed to organize magazine and paper, but their main purpose is to get customers to purchase a copy. These wood display stands prominently showcase the front page of the tabloid and offer modern styling to draw customers nearer. The furniture offers easy access to the publications that are stored inside so customers can grab one, even with one hand, pay, and be on their merry way.
The wooden newspaper displays are more sophisticated and modern than just have a few pieces of wood fastened together. These racks are created in such a way as to have their literature fully visible to clients and customers. The countertop units are made of solid oak and have an acrylic front and divider for complete views of magazines along with an extra pocket for storing them. The finish on these plastic and wood holders ranges from light oak, to medium oak, and to red mahogany. This display furniture is fairly compact and so does not take up too much room when placed on tabletops. The floor stand in this category is also made of wood and offers a modern acrylic sign holder to show off its front page. This wooden newspaper display stands 50" high, but is not very wide or deep to, once again, take up as little room as possible. There are 3 shelves on this paper display, which is offered in black for the ability to blend into any setting and to expertly set off the literature placed on the tiers.
Wherever you plan on placing these stands in your convenience store or restaurant, they will not only look great, but will also get your papers sold and keep your nightly press organized for easy access by customers. Make less work for yourself and keep your customers happy by using these display fixtures from BrochureHoldersNow!