Wall File Organizers | Racks and Holders in Wood & Metal
---
Hanging Folder Holders & Vertical File Racks for Offices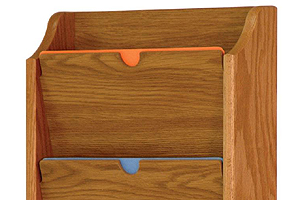 Need wall file organizers for your business office or medical practice? These vertical file folder racks offer the ideal solution for sorting patient charts, client folders, and other important documents. We offer wall file organizers with single pockets or multiple pockets, many of which come in several different finishes. Most of the hanging folder holders are made of metal or wood, which are ideal materials for lasting office equipment. Check out each filing system to find the model with the right number of pockets and the finish that matches your establishment. Choose from standard and HIPAA compliant options!
Where are these vertical folder holders usually mounted?
Lobbies and office entryways are some of the most common applications for the wall file organizer. Really any location, from medical practices to real estate agencies, can take advantage of the filing systems by mounting them in highly visible areas that can be easily accessed by staff. Sometimes they are set up so that visitors or patrons can access them as well.
Educational institutions offer use the hanging folder holders to sort student records, homework assignments, and even interoffice mail in some cases.
Hospitals and other medical offices have strict rules about how patient documents are managed, which is why we offer a full line of HIPAA compliant wall racks. The high pockets on these units properly conceal privacy charts & medical information. If your office needs to meet the Health Insurance Portability and Accountability Act of 1996, then these filing systems are exactly what you need!
Even bookstores and art supply shops can utilize these wall mounted organizers. Loose sheets are often divided up based on the color or thickness. Other times, material specification sheets and reference documents are inserted into a vertical file folder rack. It is easy to see that there are many applications for the mounted file folder holders, so get creative and figure out a new use for your office!
There are several unique finishes to choose from for this line of file racks. Our metal units are sold with black or tan finish, which is ideal for matching the look of most businesses. The wood holders offer a few more color options, including light oak, medium oak, and red mahogany. These natual wood finishes are better suited for upscale yet somewhat traditional locations. Medical professionals that appreciate the traditional look of wooden displays often select these racks when designing their healthcare & medical facilities.
The vertical design is one of the major advantages to these filing racks. They save space already because they are wall mounted, but the tiered assembly also maximizes your organization area. The slant of the slots is also quite ergonomic since in makes retrieving information faster and easier. Additionally, stacking the pockets in this way ensures that only the very top of the document or folder is visible. For this reason, many users implement color-coding on their manila folders with stickers or tags to make sorting and retrieving information easier. Some people might argue that the days of keeping paper records are over, but the reality is that most offices come up with ideas and or jot down project details on handwritten forms before ever digitizing the information. These traditional wall racks for files will be in use for years to come despite the modern tendency toward the digital revolution.